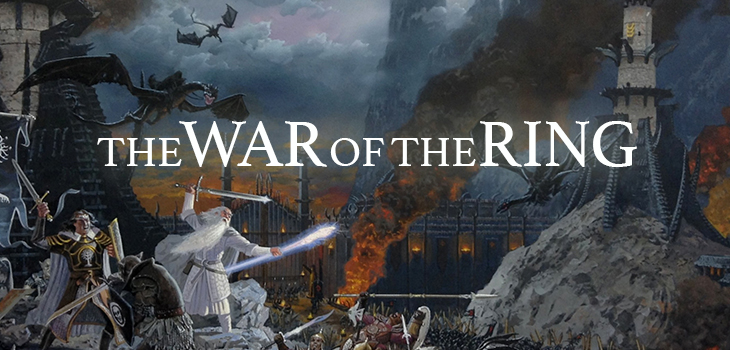 The War of the Ring
Starting in February 2018, Mythgard Academy will present a free 17-week seminar on The War of the Ring, the eighth volume of the History of Middle-earth (HoME) series and the third volume of The History of The Lord of the Rings.
Previously, we have had extensive discussions with Dr. Corey Olsen on the first seven volumes in the HoME, The Book of Lost Tales, Part I, The Book of Lost Tales, Part II, The Lays of Beleriand, The Shaping of Middle-earth, The Lost Road, The Return of the Shadow and The Treason of Isengard. We are now well into the second half of the series that explores the development of the manuscripts of J. R. R. Tolkien's legendarium.
The War of the Ring was originally printed in 1990. Continuing from where the previous volume left off, this book covers the events of Helm's Deep as they developed, as well as the Ents' attack on Isengard. It also follows Frodo and Sam on their journey to the Black Gate, through Ithilien (and the meeting with Faramir), and up to Cirith Ungol. Finally, it covers the Battle of the Pelennor Fields and the coming of Aragorn's host to the battle. The title for The War of the Ring comes from the fifth volume of the seven-volume edition of The Lord of the Rings.
The History of Middle-earth, Volume 8 is available from Amazon.
A Message from Dr. Corey Olsen
Mythgard Academy seminars are free and open to anyone who wants to join. The first 100 participants will be able to participate in the weekly live conversations, which are recorded and syndicated through our iTunes U course and the Signum University YouTube channel.
Mythgard can make this series available for free because of the generosity of those who support Signum University (Mythgard's parent institution) with their charitable donations. Individuals who donate get to pick the books that we cover in our Academy series. In addition to making our way through The History of Middle-earth series, the Council of the Wise has recently chosen to look at The Hitchhiker's Guide to the Galaxy by Douglas Adams, The Consolation of Philosophy by Boethius and The Dispossessed by Ursula K. Le Guin.
The War of the Ring is our first book of 2018, and we will be choosing others within the next couple months. There are many great books that have been nominated in the past but have yet to be chosen – if you'd like to help pick the books we cover for the rest of the year, see our annual fund page and donate to support these free literary discussions!
– Dr. Corey Olsen
Schedule
The War of the Ring will meet on Wednesdays at 10 pm Eastern Time
Week 1: The Battle of Heorulfs Clough
Read: Part 1, Chapters I – II
Original Date: February 14, 2018
Week 2: Meddling in the Affairs of Wizards
Read: Part 1, Chapters III – IV
Original Date: February 21, 2018
Week 3: A Professional Dispute and a Discovery
Read: Part 1, Chapters V – VI
Original Date: March 7, 2018
Week 4: Treeherding, Rock Climbing and Samwise
Read: Part 2, Chapter I
Original Date: March 14, 2018
Week 5: The Right Road for Mordor
Read: Part 2, Chapters II – III
Original Date: March 21, 2018
Week 6: Ambush in Ithilien
Read: Part 2, Chapter IV
Original Date: April 4, 2018
Week 7: Gondor Revealed and Obscured
Read: Part 2, Chapter V
Original Date: April 11, 2018
Week 8: Gollum's Unexpected Ally
Read: Part 2, Chapters VI – VII
Original Date: April 18, 2018
Week 9: Breaking Free of the Sticky Patch
Read: Part 2, Chapter VIII
Original Date: May 2, 2018
Week 10: Loose Ends and Perplexities
Read: Part 3, Chapters I – II.ii
Attend: May 9, 2018
Week 11: Finding the Story Grown
Read: Part 3, Chapter II.iii
Original Date: May 16, 2018
Week 12: Aragorn Transformed
Read: Part 3, Chapter III
Original Date: May 23, 2018
Week 13: On Black Wizards Woses and Parenting
Read: Part 3, Chapters IV – V
Original Date: May 30, 2018
Week 14: The Great War of Our Times
Read: Part 3, Chapters VI – VII
Original Date: June 6, 2018
Week 15: Preventing Boss Battles
Read: Part 3, Chapters VIII – IX
Original Date: June 13, 2018
Week 16: The End of the War of the Ring
Read: Part 3, Chapters X – XI
Original Date: June 20, 2018
Image: Battle of the Black Gate by Ted Nasmith, used with permission