Solaris (1972)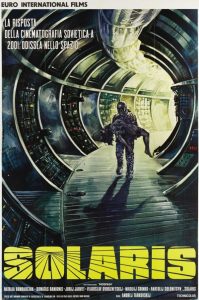 Join the Mythgard Movie Club for a discussion of the 1972 film adaptation of Solaris, based on the original novel by Polish sci-fi author Stanislaw Lem. Directed by Andrei Tarkovsky, the movie stars Donatas Banionis and Natalya Bondarchuk in the lead roles.
The story follows psychologist Kris Kelvin (Banionis) as he is sent to the water-world of Solaris to assess the future of the mission to study the planet. While there, he discovers that the crew has been seeing hallucinations – and soon after his arrival, he begins seeing them as well.
Solaris premiered at the 1972 Cannes festival, at which it won the Grand Prix Spécial du Jury and was nominated for the festival's highest award, the Palme d'Or. The film went on to be screened in limited runs over the next 15 years in the U.S.S.R. and Eastern Bloc countries; a truncated version ran in the U.S. starting in 1976.
In addition to its Cannes accolades, Solaris was nominated for a Gold Hugo in the Best Feature category at the Chicago International Film Festival in 1972 and 1973. It has received praise from critics and authors, such as Roger Ebert and Salman Rushdie. It has been included on various top film lists, such as Empire's "The 100 Best Films of World Cinema," and it has high audience and critic ratings on review sites like Rotten Tomatoes and IMDb.
Despite such praise, however, Stanislaw Lem – author of the original novel – stated that he did not like the final movie version's divergence from the book's themes. While we will focus primarily on the film's narrative, our panel discussion will also discuss some of the differences between the two versions of the story.
Solaris is available in multiple formats as part of the Criterion Collection (Amazon). It is also available for rent and purchase on various digital streaming services, including iTunes, Amazon Prime Video, Vudu and Google Play.
Sign up for Mythgard Movie Club
About the Panelists
Curtis Weyant is a Signum Grad School alumnus who has does occasionally see hallucinations, but they are mostly friendly, and he rarely believes they are real. A digital marketer by trade, he co-hosts the weekly podcast Kat & Curt's TV Re-View and occasionally pecks away at his own creative work.
Kat Sas holds an MA in Language & Literature from Signum University, where she concentrated in Imaginative Literature. She hosts a weekly podcast on speculative television at Kat & Curt's TV Re-View, and she blogs about Doctor Who, Game of Thrones, and other shows on her blog, Raving Sanity.