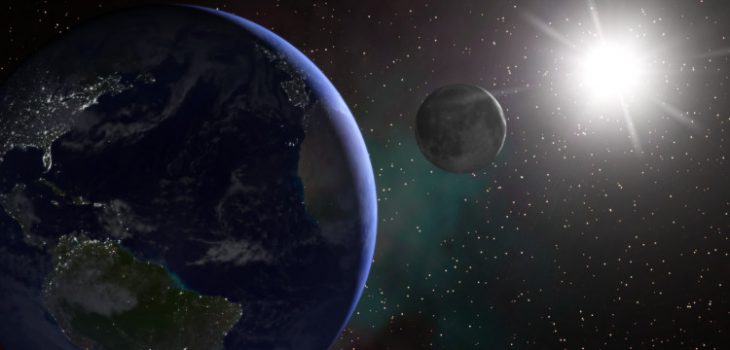 The Fifth Element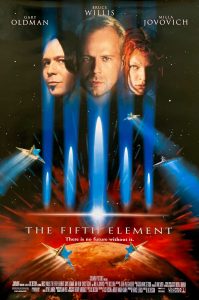 Join the Mythgard Movie Club on Thursday, November 21, 2019, at 8:30pm ET for a panel discussion on The Fifth Element, a science fiction film by French director Luc Besson based on story ideas he first explored as a teenager. Released at the Cannes Film Festival in 1997, the movie stars Bruce Willis, Milla Jovovich, and Gary Oldman, and includes memorable performances by Ian Holm, Chris Tucker, and Luke Perry.
The Fifth Element (Le cinquième élément) is set in the 23rd Century and tells the story of an immanent threat to the Earth by an evil celestial orb that appears once every 5,000 years. The narrative follows the adventures of Korben Dallas (Willis) and Leeloo (Jovovich) – a.k.a. the Fifth Element – as they attempt to save the earth and stop the unnamed evil. Amongst the obstacles and perils in their path are alien mercenaries hired by Jean-Baptiste Emmanuel Zorg (Oldman), a weapons-maker and agent of the unnamed evil.
As a high-energy blockbuster, the film is a divisive one among critics, with some loving it, others hating it, and few who take a middle ground. Despite the mixed reviews, The Fifth Element was an international commercial success, earning nearly triple its $90 million budget in worldwide ticket sales (most of it outside the U.S.) and helping to solidify Besson's place as "the most Hollywood of French filmmakers." In terms of accolades, it won the Technical Grand Prize at Cannes, Best Special Visual Effects at the BAFTAs, and Best Director for both the César Award and Lumières Award. It was nominated for a number of technical categories in the Academy Awards, European Film Awards, Satellite Award, Saturn Awards, and Golden Reel Awards, and vied for best film categories for both the Hugo and Saturn Awards. Given its divisiveness, it was also nominated for multiple categories in the Golden Raspberry Awards and the Stinkers Bad Movie Awards.
But the question remains: How well does The Fifth Element hold up under heavy scrutiny? Is it anything more than a fun romp through extremely tall cityscapes and ostentatious space cruisers? The film touches on themes of good vs. evil, the efficacy of human action in the face of hopelessness, and the power of human connection and love – but does it ever do anything more than brush the surface of those subjects? Is Leeloo a feminist icon, or does the film place her on a pedestal? Our panelists will discuss the good, the bad, and the controversial…come join us!
The Fifth Element is available in multiple digital and physical media formats at Amazon, and it is available for streaming and purchase from Google Play, iTunes and Vudu.
Sign up for Mythgard Movie Club
About the Panelists
David Maddock is a software engineer and digital humanities enthusiast. A Signum University alum, he is interested in applying quantitative analysis to literary texts, especially those of the Old English poetic corpus.
Brenton Dickieson is working on a PhD on the theology of C.S. Lewis' fictional worlds and writes the blog, www.aPilgrimInNarnia.com. He lives in the almost fictional land of Prince Edward Island, where he teaches and consults in higher education.
Curtis Weyant is a Signum Grad School alumnus who once won a space cruise trip, but in order to claim the prize he had to listen to a sales pitch for a timeshare on Mars. A digital marketer by trade, he co-hosts the weekly podcast Kat & Curt's TV Re-View and occasionally pecks away at his own creative work.
Kat Sas holds an MA in Language & Literature from Signum University, where she concentrated in Imaginative Literature. She hosts a weekly podcast on speculative television at Kat & Curt's TV Re-View, and she blogs about Doctor Who, Game of Thrones, and other shows on her blog, Raving Sanity.
Image from Wikimedia Commons