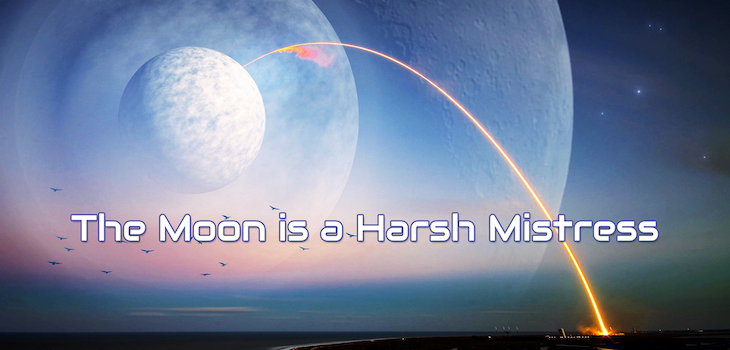 The Moon is a Harsh Mistress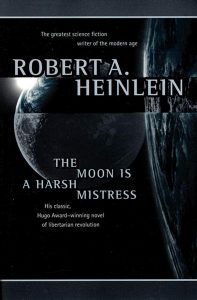 In May 2021, we are starting revolution — on moon! Or we read about one, anyway.
The Moon Is a Harsh Mistress is tale of oppression and rebellion. With heavy dose of detachable arms. You like space? It has. You like thinkum dinkum computers? It also has. You like strange social constructs and dollop of political philosophy? This story for you.
Moon is book by Robert A. Heinlein published in 1966. Many consider it one of his best—maybe very best. It won Nebula and Hugo Award, so must be pretty okay. It follows story of one-armed computer tech Manual Garcia O'Kelly, who lumbers into revolution by mistake. Oops.
Join Mythgard Academy and old cobber Dr. Corey Olsen for free online discussion of The Moon Is a Harsh Mistress. This is first book by Heinlein in Mythgard Academy.
Classroom (Netmoot) Twitch Forum Chat
A Message from Dr. Corey Olsen
At the Mythgard Academy we love science fiction as much as we love fantasy! That may not be apparent based on the number of books we've done in each genre, but it's true nonetheless.
The Moon Is a Harsh Mistress was chosen by an extremely generous and benevolent donor as a benefit of the Signum Univeristy Donor Appreciation Program. Our entire Mythgard Academy program is provided freely through the support of our donors at many levels, who get to nominate and vote on books through our Council of the Wise voting process. Specifically, anyone who donates any amount can vote on the books we cover, and donors who give at least $100 can nominate their favorite books. Other science fiction stories we've looked at in the past include Dune by Frank Herbert, Ender's Game by Orson Scott Card, The Dispossessed by Ursula K. Le Guin, and Nightfall by Isaac Asimov.
– Dr. Corey Olsen
The Moon Is a Harsh Mistress discussions will take place on Wednesday evenings at 10pm ET.
Life is Too Short to Read Fast! In each class session, Corey will end by forecasting what he will likely discuss for next time and how far ahead folks should read. You can simply attend and hear it from him or find the current read-to goal here: For September 8, we will finish the book!