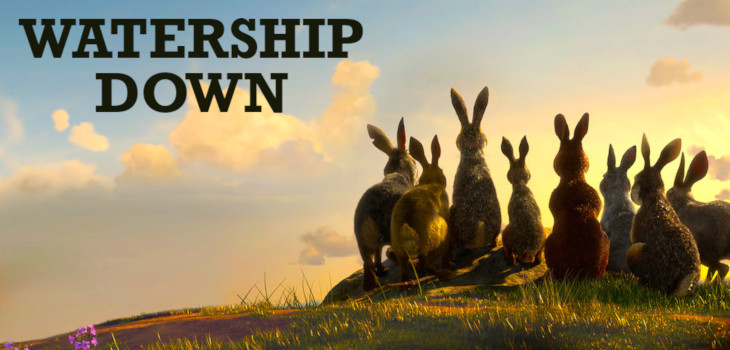 Watership Down (miniseries)
On September 5, 2019, join the Mythgard Movie Club for a discussion of the BBC and Netflix computer-animated miniseries adaptation of Watership Down. Based on the popular novel by Richard Adams, the miniseries tells the tale of a fluffle of rabbits who are driven from their warren and go in search of a place to establish a new home. Directed by Noam Murro from a screenplay adaptation by Tom Bidwell, the miniseries features an ensemble cast of voice actors including James McAvoy, Nicholas Hoult, John Boyega, Ben Kingsley, Tom Wilkinson, Gemma Arterton and Peter Capaldi, among others.
The miniseries has received generally positive reviews from critics as a mostly faithful adaptation to Adams' story, with layered meanings, subverted expectations, and solid vocal performances. Most criticisms of the series focus on its dark tone – many reviews pointedly mention that it is not suitable for young children – and poorly rendered computer animation. One critic likens the video and graphics to a 2004 video game, while another likens them to…an even earlier video game. We will address all of these aspects of the series during our discussion.
Despite whatever criticisms it has received, the Watership Down miniseries won an Emmy Award for Outstanding Special Class Animated Program, and it was nominated for several Emmys, including Outstanding Directing for an Animated Program, Outstanding Music Direction and Composition, and various sound-related technical awards. It was also nominated in award categories from the International Film Music Critics Award, Golden Trailer Awards, Annie Awards, and the Banff Television Festival.
The BBC/Netflix co-production is the third audiovisual adaptation of Watership Down. The first was an animated feature film released in 1978, six years after the novel was originally published. The second was an animated television series for children that ran for three sesasons from 1999 – 2001.
Want more Watership Down? Check out Dr. Olsen's discussion of the book in Mythgard Academy.
Sign up for Mythgard Movie Club
About the Panelists
Corey Olsen, aka The Tolkien Professor, is founder and president of Signum University and the Mythgard Institute. He promotes open courses for literature analysis, and frequently publishes free podcasts and seminars analyzing Tolkien and other works. His book Exploring J.R.R. Tolkien's The Hobbit was published in September 2012. Corey Olsen holds a B.A. in English and Astrophysics from Williams College and a Ph.D. in medieval literature from Columbia University. He has previously taught at Temple University, Columbia University, Nyack College, and Washington College.
Emily Strand is a professor of Comparative Religions at Mt. Carmel College of Nursing in Columbus, OH, where she also serves the Catholic diocese as a Master Catechist. Besides her books on liturgy, she has published articles on the Harry Potter series, including a contribution to Harry Potter for Nerds 2, and many essays at HogwartsProfessor.com. She has appeared on the Mugglenet Academia podcast and is a frequent guest on the Reading Writing Rowling podcast.
Curtis Weyant is a Signum Grad School alumnus who has never eaten rabbit, but is willing to give it a shot. A digital marketer by trade, he co-hosts the weekly podcast Kat & Curt's TV Re-View and occasionally pecks away at his own creative work.
Kat Sas holds an MA in Language & Literature from Signum University, where she concentrated in Imaginative Literature. She hosts a weekly podcast on speculative television at Kat & Curt's TV Re-View, and she blogs about Doctor Who, Game of Thrones, and other shows on her blog, Raving Sanity.