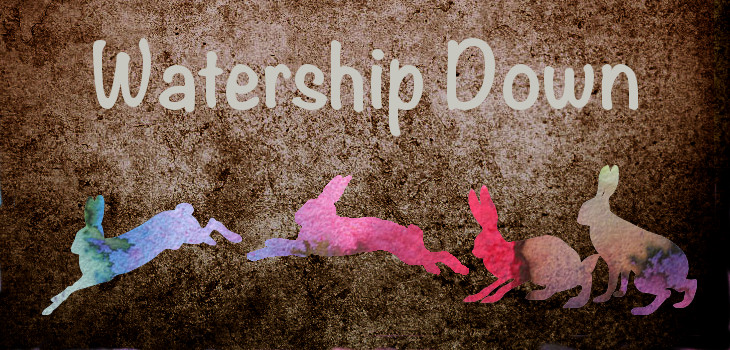 Watership Down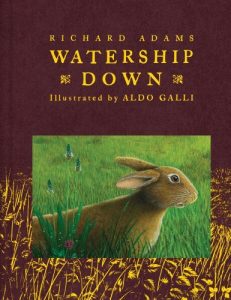 2019 Update: We are watching the Netflix Watership Down miniseries in the Mythgard Movie Club!
A prophecy, foretelling the destruction of their village, causes a group of friends to a journey through the wild to seek a new home. They encounter many threats before finding a place of plenty and apparent safety on the uplands of Watership Down. But a chance encounter with a patrol from a nearby village reveals that our heroes live next to a frightening militarist dictatorship bent on their enslavement or destruction. They must risk everything they have, delve deep into their reserves of strength, courage, friendship and cleverness, to fight for their lives, freedom and prosperity. Our heroes are not humans but rabbits, and they have their own rich culture, mythology and language. Their mythology warns them:
All the world will be your enemy, Prince of a Thousand enemies. And when they catch you, they will kill you. But first they must catch you; digger, listener, runner, Prince with the swift warning. Be cunning, and full of tricks, and your people will never be destroyed.
Their story is one of Escape, Recovery, Consolation and Eucatastrophe, and, in the end, it is our story too.
Watership Down, by Richard Adams is also available as an audio book and it was adapted as an animated film. For those of you wishing more insight into the geography of Watership Down, a page has been created illustrating the areas referenced in the book that shows more detail than the published map.
Watership Down Geography
Mythgardian Ed Powell has created an annotated map of the locations of the real-world Watership Down, showing the various locations mentioned throughout the story. Each link shows an unmarked arrow at the exact spot, with a lettered arrow at the nearest place Google thinks is interesting. Ignore the lettered arrow and focus only on the unmarked arrows like the one shown to the right.
The "River Test" is about 8 meters wide, not exactly a "river" to us, but a serious river to our heroes.
If you would like to view all of these places together, you can do so using Google Earth. These places are all together in this kml file for use with Google Earth. Another enthusiast has a set of pages with photos here.
The map in the book is included below for reference (click to enlarge). Note: In this map, North is to the left.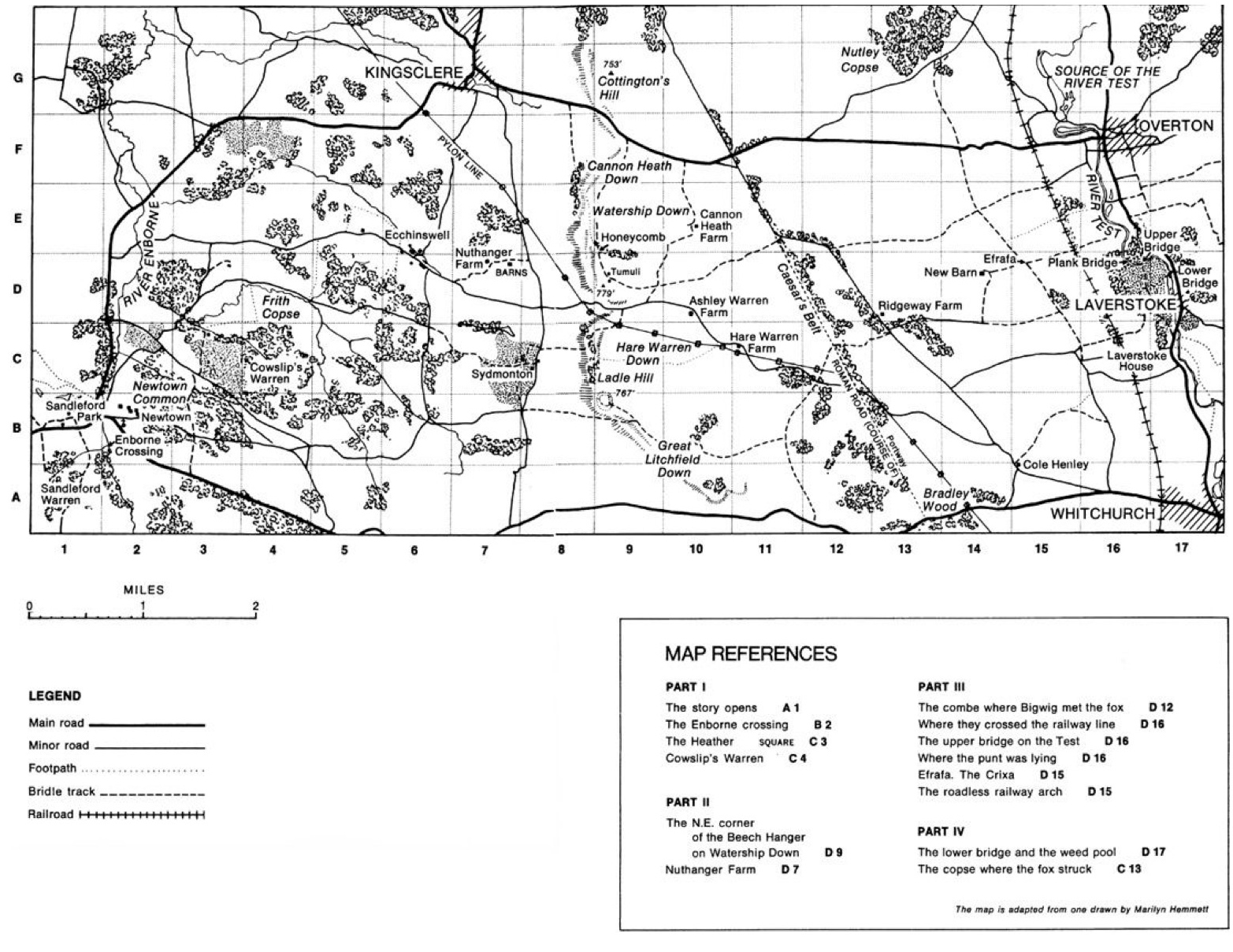 Schedule
Week 1: Escape
Read: Book I, Chapters 1-11
Date: November 5, 2014
Week 2: Roofed with Mist and Wires
Read: Book I, Chapters 12-17
Date: November 12, 2014
Week 3: A New World
Read: Book II, Chapters 18-23
Date: November 19, 2014
Week 4: Being Cunning and Full of Tricks
Read: Book II, Chapters 24-29
Date: November 26, 2014
Week 5: Where Are We?
Read: Bonus Session 1
Date: December 3, 2014
Week 6: The Rabbit of Death and Fear
Read: Book III, Chapters 30-34
Date: December 10, 2014
Week 7: Thlayli's Storm
Read: Book III, Chapters 35-38
Date: December 17, 2014
Week 8: Big Rabbit, Small Rabbit
Read: Book IV, Chapters 39-44
Date: December 30, 2014
Week 9: The Makings of the Best Story Ever
Read: Book IV, Chapter 45 – Epilogue
Date: January 7, 2015
Week 10: Dreams and Legends Hopping Out of the Grass
Read: Bonus Session 2
Date: January 14, 2015
Week 11: Wherein Its Badness Consists
Watch: The animated film adaptation, Available here and on Amazon Instant Video and Netflix.
Date: January 21, 2015
Stay Involved
Want to support the work that the Mythgard Institute does for fantasy and other imaginative literature? Consider making your own donation today!