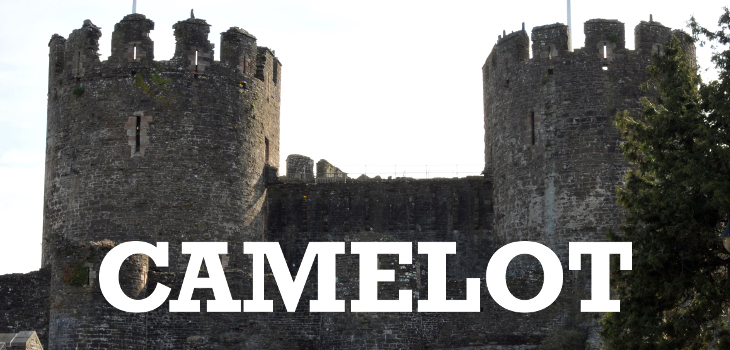 Camelot (1967)
Event Recording
Description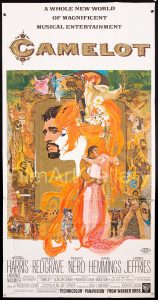 On August 8, 2019, join the Mythgard Movie Club for a panel conversation about the 1967 musical, Camelot. Based on the Broadway show of the same name (1960), which in turn is based on T. H. White's The Once and Future King, Camelot stars Richard Harris as King Arthur, Vanessa Redgrave as Guenevere and Franco Nero as Lancelot du Lac.
The musical comedy-drama is bookended by the conflict between Arthur and Lancelot, the latter of whom has won the affection of Guenevere. Much of the story is told as a flashback – as well as song – exploring the course of Arthur and Guenvere's relationship from courtship to betrayal and estrangement. Relationship failures result in political disasters, as interpersonal problems create complications for the king's dreams of a unified England. Ultimately, the major players feel compelled to follow-through with what seems like an inevitable battle, even though none of them really want to go through with it – however, even at the bleakest moment, there is a spark of hope that future generations will be able to realize the dream of uniting the country and ushering in an era of peace and prosperity.
The story of Camelot reflects back on medieval tradition, but it is also rooted in the mid-20th century socio-political climate, still reeling from the recent death of President John F. Kennedy and firmly mired in the Vietnam War, which was more than a decade old at the film's premiere. Kennedy's love for the Broadway show's soundtrack became well known after his death, and his presidential administration has since became inextricably linked with some of the ideals held by Arthur in the Camelot story, including the attempt to unify a divided nation while waging a war that seems as inevitable as it is undesirable – and a willingness to sacrifice one's own life to protect those he leads. Some critics have drawn parallels between Arthur's speeches in the film and disapproval the Vietnam war, while others have said it offers an escape (in the Tolkienian sense) from both the bleak news of the battlefront and the increasing violence surrounding antiwar demonstrations – such as the infamous shootings at Kent State University, which took place just a few years after Camelot's cinematic release.
Joining the Movie Club for this discussion will be Dr. Corey Olsen, fresh off a 10-month-long Mythgard Academy series on Le Morte d'Arthur, the classic collection of Arthurian tales written by Sir Thomas Malory from which many of our modern traditions relating to King Arthur have derived. The panel will also include Kris Swank, Katherine Sas and Curtis Weyant.
Camelot is available for purchase on Blu-ray and DVD at Amazon and other retailers. It is also available for digital rent or purchase from a variety of streaming video services.
Sign up for Mythgard Movie Club
About the Panelists
Corey Olsen, aka The Tolkien Professor, is founder and president of Signum University and the Mythgard Institute. He promotes open courses for literature analysis, and frequently publishes free podcasts and seminars analyzing Tolkien and other works. His book Exploring J.R.R. Tolkien's The Hobbit was published in September 2012. Corey Olsen holds a B.A. in English and Astrophysics from Williams College and a Ph.D. in medieval literature from Columbia University. He has previously taught at Temple University, Columbia University, Nyack College, and Washington College.

Kris Swank is a Preceptor at Signum University and Library Director at Pima Community College–Northwest Campus, Tucson, Arizona. She holds a BA, summa cum laude, Humanities and English, Dana College, a Master of Library Science, University of Arizona, and an MBA in International Management, Thunderbird School of Global Management. In 2014, she completed the MA in Literature and Languages program at Signum University with a concentration in Tolkien Studies and is currently pursuing a PhD in Tolkien Studies at Cardiff Metropolitan University with Dr. Dimitra Fimi.
Sørina Higgins' interests include British and Irish Modernism, the Inklings, Arthuriana, theatre, and magic. She holds an M.A. from Middlebury College's Bread Loaf School of English, where she wrote about Sehnsucht in the works of C. S. Lewis. Her latest work is an academic essay collection entitled The Inklings and King Arthur: J. R. R. Tolkien, Charles Williams, C. S. Lewis, and Owen Barfield on the Matter of Britain (Apocryphile Press, 2017), winner of the 2018 Mythopoeic Society Inklings Scholarship Award.
Maggie Parke earned her Ph.D. in Film and Digital Media from Bangor University, Wales UK, with her specialty in the Creative Industries. She focused on the adaptation processes of event films and fan management (Harry Potter, The Lord of the Rings, The Hunger Games, Twilight, His Dark Materials, Narnia, etc.), and her research included working on the sets of Twilight (2008), Captain America (2009), and on the Academy Award shortlisted short, Love at First Sight (2010). She also investigated the gaming industry, researching with Turbine Inc. on The Lord of the Rings Online (LOTRO) and DC Comic's Infinite Crisis.
Gabriel Schenk completed his D.Phil. in Arthurian literature at Pembroke College, Oxford, in 2014, and he has taught classes on science-fiction, Great War poetry, Tennyson, children's literature, and the Inklings. His thesis was on the various depictions of Arthur's character in literature from the mid-nineteenth to mid-twentieth centuries. At Oxford he taught classes on science-fiction, Great War poetry, Tennyson, children's literature, and the Inklings with a focus on C. S. Lewis.
Kat Sas holds an MA in Language & Literature from Signum University, where she concentrated in Imaginative Literature. She hosts a weekly podcast on speculative television at Kat & Curt's TV Re-View, and she blogs about Doctor Who, Game of Thrones, and other shows on her blog, Raving Sanity.