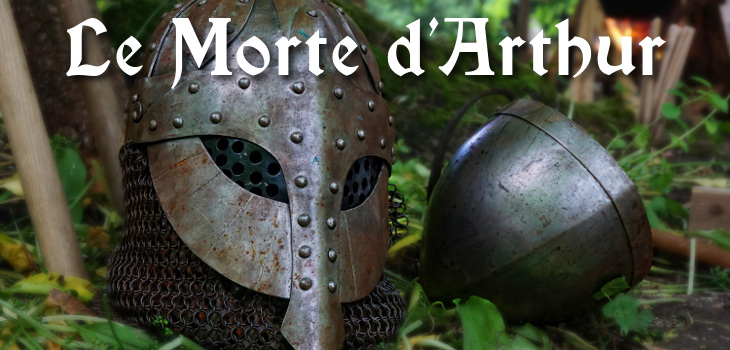 Le Morte d'Arthur
Starting in July 2018, Mythgard Academy will present a free seminar on Le Morte d'Arthur, the classic cycle of Arthurian tales retold by Sir Thomas Malory. The tales have been the source of many later retellings of the Arthur mythos, including, for example, The Once and Future King by T. H. White and the 1981 cinematic feature, Excalibur.
Written in Late Middle English, the Morte was first printed by William Caxton in 1485. Since then, many other versions and editions based on Caxton's text – most them removing material from the original – have been printed. For this free Mythgard Academy seminar, we will be using the Eugène Vinaver version, specifically the second edition published by the Oxford University Press in 1971 (with a subsequent printing in 1977). This edition is generally available through Amazon and various used book sellers online. For a description of the differences between the Caxton and Vinaver editions of Malory, see this explanation.
Hearing Malory Aloud
For those interested in hearing Malory's text spoken in a reconstructed Middle English dialect, you can purchase audio excerpts of Le Morte d'Arthur for $5 from The Chaucer Studio at Brigham Young University. The excerpts were recorded at the University of Wales, Bangor, during the 20th International Arthurian Studies Congress, July 2002, and include 12 passages read by 8 different performers.
Ebook of Caxton Text
Mythgardian Jonne Steen Redeker has helped us put together an ebook version for use during our discussions. It uses the text from the original Caxton printing of Malory's work, as reprinted in facsimile form by Heinrich Oskar Sommer in 1889 and digitized by the University of Michigan Humanities Text Initiative.
While the Mythgard Academy class is using the Eugène Vinaver (2nd ed.) version of the text, based on the Winchester Manuscript discovered in 1934, we have added a special table of contents in this ebook that corresponds with the weekly readings for the discussion. Note that the Caxton printing leaves out some of Malory's original text, so there may be additional portions of text covered during the discussions that are not included in this ebook.
Two versions are available for use:
HELP US ANNOTATE THE E-BOOK
Throughout the course of the seminar, we will be collecting notes, references and citations for use in a future partnership with our parent institution, Signum University – an open-source, annotated e-book edition of Le Morte d'Arthur. As part of the effort, we will be looking for contributors to submit information such as:
Textual notes and glosses
Details about other editions and adaptations
References to literary scholarship
Quotes from Corey and participants in the Mythgard Academy seminar
If you are interested in helping us with this project, please submit your annotations using this Google Form. Contributors will be acknowledged in the final publication.
Join the Discussion
We are pleased to offer all of the following FREE ways to join our weekly discussions on Malory's Le Morte d'Arthur.
Netmoot (GoToWebinar) Discussion Forum Rumble Chat
You can also follow us on Facebook, Twitter and Instagram for updates and to leave comments about how you are enjoying the chats!
A Message from Dr. Corey Olsen
Mythgard Academy seminars are free and open to anyone who wants to join. The first 100 participants will be able to participate in the weekly live conversations, which are recorded and syndicated through our iTunes U course and the Signum University YouTube channel.
Mythgard makes this seminar available without cost due to the generosity support Signum University donors and supporters through with their charitable giving. Anyone who donates receives votes to help choose which books we cover in our Academy discussions. Already in 2018 we have finished discussions on both The Hitchhiker's Guide to the Galaxy by Douglas Adams and The War of the Ring by J. R. R. Tolkien. The selection of Malory's Morte d'Arthur will likely take us through most of the rest of the year, at which point we will move on to the next book in the History of Middle-earth series.
If you would like to help us choose the books we will look at in 2019, you can visit our annual fund page to donate and secure your vote!
– Dr. Corey Olsen
Schedule
Le Morte d'Arthur will meet on Wednesdays at 10 pm Eastern Time
Important: The Vinaver reading assignments listed below are in the format Section. Title: Page.Line – Page.Line. Thus, for example, I. Merlin: 17.4 – 37.29 means Section I. Merlin: page 17.line 4 – page 37.line 29. Approximate endpoints for the Caxton text have also been provided.
Week 1: The Begetting of Arthur
Read:
Vinaver: I. Merlin: 3.1 – 6.5
Caxton: Chapter 1 through part of Chap 3, ending with "whan she knewe who was the fader of her child"
Date: July 11, 2018
Week 2: A Christmas Miracle
Read:
Vinaver: I. Merlin: 6.6 – 17.3
Caxton: Continuing into Chapter 12, ending with "and vytaille they wanted none"
Date: July 18, 2018
Week 3: On the Pulling Out of Swords and the Circulation of Horses
Read:
Vinaver: I. Merlin: 17.4 – 37.29
Caxton: Continuing through the end of Book I.
Date: July 25, 2018
Week 4: Arthur's Glory and Failure
Read: No new reading
Date: August 1, 2018
Week 5: The Misadventures of Sir Balyne
Read:
Vinaver: II. Balin: 37.30 – 59.11
Caxton: All of Book II
Date: August 15, 2018
Week 6: A Dolorous Stroke and a Momentous Marriage
Read:
Vinaver: III. Torre and Pellinore, IV. The War with the Five Kings: 59.12 – 81.32
Caxton: Book III, Chapter 1 – Book IV, Chapter 5
Date: August 22, 2018
Week 7: What a Royal Wedding Is Really Supposed to Look Like
Read:
Vinaver: V. Arthur and Accalon, VI. Gawain, Ywain, and Marhalt: 81.33 – 110.14
Caxton: The rest of Book IV
Date: August 29, 2018
Week 8: Ladies of the Lake
Date: September 5, 2018
Week 9: Personal and Political Adventures
Read:
Vinaver: Of King Arthur and the Emperor Lucius, 113.1 – 130.35
Caxton: Book V, Chapter 1 though Chapter 7
Date: September 12, 2018
Week 10:
Read:
Vinaver: Of King Arthur and the Emperor Lucius, 130.36 – 146.23
Caxton: Book V, Chapter 8 through the end of Book 5
Date: September 19, 2018
Week 11: Our Exemplar Arrives
Read:
Vinaver: Sir Lancelot du Lake, 149.1 – 173.9
Caxton: The entirety of Book VI
Date: September 26, 2018
Week 12: More Exemplary Adventures
Date: October 3, 2018
Week 13: A Proved Knight
Read:
Vinaver: Sir Gareth of Orkney, 176 – 201.8
Caxton: Book VII, Chapters 1 – 18
Date: October 10, 2018
Week 14: The Culmination of Love
Read:
Vinaver: Sir Gareth of Orkney, 201.9 – 226
Caxton: Book VII, Chapters 19 – 36
Date: October 17, 2018
Week 15: An Alternative Hero
Read:
Vinaver: The Book of Sir Trystram de Lyones, I. Isolde the Fair 1, 229 – 251.29
Caxton: Book VIII, Chapters 1 – 18
Date: October 24, 2018
Week 16: A Blueprint for Tragedy
Read:
Vinaver: The Book of Sir Trystram de Lyones, I. Isolde the Fair 2, 251.30 – 274.14
Caxton: Book VIII, Chapters 19 – 37 (ending at "better than euer he dyd to fore")
Date: October 31, 2018
Week 17: Tristram's Difficulties
Read:
Vinaver: The Book of Sir Trystram de Lyones, II. Lamerok, III. La Cote Male Tayle, 274.15 – 294.14
Caxton: Book VIII, Chapter 37 (continued at "So leue we sire Trystram in Bretayne") – Book IX, Chapter 9
Note: Daylight Savings Time ends on November 4 in the United States. The start time may shift for attendees in other countries by an hour.
Date: November 7, 2018
Week 18: As the Narrative Turns
Read:
Vinaver: The Book of Sir Trystram de Lyones, IV. Tristam's Madness and Exile, 294.15 – 320.32
Caxton: Book IX, Chapters 10 – 29
Date: November 14, 2018
Note: There will be no Mythgard Academy session on November 21, 2018, as it is the night before Thanksgiving.
Week 19: Run Mad as Often as You Chuse
Read:
Vinaver: The Book of Sir Trystram de Lyones, V. The Castle of Maidens, VI. The Round Table, 320.33 – 352
Caxton: Book IX, Chapter 30 – Book X, Chapter 6
Date: November 28, 2018
Week 20: The Trystrams-Palomydes Drama Heats Up
Read:
Vinaver: VI. The Round Table, 333.19 – 352
Date: December 5, 2018
Week 21
Read:
Vinaver: VII. King Mark, 353 – 388.16
Date: December 12, 2018
Week 22
Read:
Vinaver: VIII. Alexander the Orphan, IX. The Tournament at Surluse, 388.17 – 411.5
Date: December 19, 2018
Week 23
Read:
Vinaver: X. Joyous Guard, XI. The Red City, 411.6 – 440.25
Date: January 9, 2019
Week 24
Read:
Vinaver: XII. The Tournament at Lonezep, XIII. Sir Palomides, 440.26 – 477.14
Date: January 16, 2019
Week 25
Read:
Vinaver: XIV. Launcelot and Elaine, XV. Conclusion, 477.15 – 511
Date: January 23, 2019
Remaining Schedule TBD