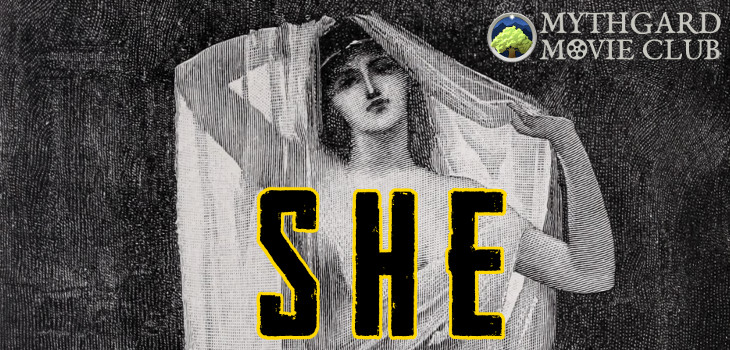 She (1935)
Event Recording
Description
Join the Mythgard Movie Club on October 11, 2018, at 8:30pm ET for a discussion on the 1935 version of She, directed by Lansing C. Holden and Irving Pichel and starring Helen Gahagan and Randolph Scott, with a cameo appearance by Native American Olympian Jim Thorpe. Although named after the H. Rider Haggard story of the same name, this early film version takes elements not only from Haggard's She (1887) but also from its three sequels: Ayesha: The Return of She (1905), She and Allan (1921), and Wisdom's Daughter (1923).
The 1935 version of She was produced by Merian C. Cooper, who saw wild success two years earlier with his production of King Kong. Despite aspirations of a color film, budgetary cuts imposed during production forced Cooper and crew to film She in black-and-white instead. The film turned out to be a bust at the box office, losing $180,000 (about $3.3 million in today's dollars), though it later enjoyed a rather successful re-release in 1949, which cut 8 minutes of runtime from the original production.
For many years, Cooper's She was believed to have been destroyed in an RKO Pictures vault fire in the 1950s, which also destroyed masters of many other films, including Citizen Kane (1941) and The Monkey's Paw (1933). However, the original print had instead found its way into the hands of Buster Keaton, who had kept it for years as part of his own private collection and later handed it over for preservation along with a number of other films to film archivist Raymond Rohauer.
In 2006, Legend Films colorized the 1935 She, finally bringing Cooper's original vision to bear (as close as possible), at the same time restoring the 8 minutes of film that had been removed from the 1949 re-release. The colorized version is available for purchase as a DVD or Blu-ray on Amazon and is included in Amazon Prime's streaming service. The diligent and stout of heart may also successfully journey into the wilds of the Internet to find other versions available at varying prices.
Finally, since we are constitutionally incapable of hosting an event without mentioning J. R. R. Tolkien, we should note that Tolkien mentions enjoying Haggard's adventure stories. While we know Tolkien read the novel She, it is unclear whether he saw any cinematic adaptations of Haggard's story – there were at least five made during his lifetime, including three prior to 1935 plus the 1965 version starring Ursula Andress. In "She and Tolkien," John D. Rateliff suggests that Ayesha, the eponymous She, may have been a subconscious inspiration for Galadriel, as they "share one of the same faults – too much pride and a desire to rule over the whole world" (Mythlore 8.2 [whole #28], p. 6). Rateliff also sees connections between Tolkien and Haggard in their uses of fictional manuscript history, marshes filled with "corpse candles," pipe-smoking, the sudden aging and death of an ancient character (Ayesha and Saruman), water-filled bowls used as magical mirrors, and the amulet that Allan Quatermain wears around his neck all Frodo-with-the-One-Ring style. However, the "clearest case of Haggard's influence on Tolkien," according to Rateliff, is the relationship between the lost city of Kor in She and Gondolin (p. 7).
Sign up for Mythgard Movie Club
About the Panelists
Corey Olsen, aka The Tolkien Professor, is founder and president of Signum University and the Mythgard Institute. He promotes open courses for literature analysis, and frequently publishes free podcasts and seminars analyzing Tolkien and other works. His book Exploring J.R.R. Tolkien's The Hobbit was published in September 2012. Corey Olsen holds a B.A. in English and Astrophysics from Williams College and a Ph.D. in medieval literature from Columbia University. He has previously taught at Temple University, Columbia University, Nyack College, and Washington College.

Kris Swank is a Preceptor at Signum University and Library Director at Pima Community College–Northwest Campus, Tucson, Arizona. She holds a BA, summa cum laude, Humanities and English, Dana College, a Master of Library Science, University of Arizona, and an MBA in International Management, Thunderbird School of Global Management. In 2014, she completed the MA in Literature and Languages program at Signum University with a concentration in Tolkien Studies and is currently pursuing a PhD in Tolkien Studies at Cardiff Metropolitan University with Dr. Dimitra Fimi.
Curtis Weyant is a Signum Grad School alumnus who first read H. Rider Haggard's She as part of the Signum's Roots of the Mountain class with Douglas A. Anderson. A digital marketer by trade, he co-hosts the weekly podcast Kat & Curt's TV Re-View and occasionally pecks away at his own creative work.
Kat Sas holds an MA in Language & Literature from Signum University, where she concentrated in Imaginative Literature. She hosts a weekly podcast on speculative television at Kat & Curt's TV Re-View, and she blogs about Doctor Who, Game of Thrones, and other shows on her blog, Raving Sanity.