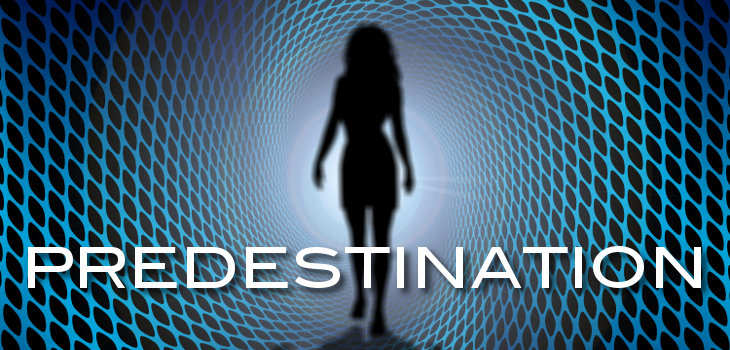 Predestination
Event Recording
Description
Join the Mythgard Movie Club on September 6, 2018, for a discussion of Predestination (2014), directed by Peter and Michael Spierig and starring Ethan Hawke and Sarah Snook. Based on Robert Heinlein's "—All You Zombies—," Predestination is a time travel story that crosses over itself a number of times as the characters try to figure out who they are and how they relate to each other. In addition to the plot complexities, paradoxes, and character impacts of time travel, the film explores themes related to gender, sexuality, identity, and, of course, fate vs. free will.
In adapting Heinlein's story, the Spierigs stayed as closely as possible to the original storyline, surmising that "if there was a way to pick apart the logic…it would have been done by now." As a time travel story that loops back on itself, the film joins the ranks of other science fiction classics like Time After Time (1979), Back to the Future II (1989), 12 Monkeys (1995), Primer (2004) and Looper (2012) – though, of course, the story it is based on came before all of those. As such, Predestination is production-wise a bit of a time travel loop itself, having the simultaneous advantage of using a story that pioneered the genre while being able to make use of techniques developed by the films that preceded it.
Financed by Screen Australia as part of a three-film sponsorship, Predestination premiered at the SXSW Film Festival in March 2014. The film was subsequently selected for screening at several other festivals, including the Melbourne International Film Festival (Australia), the Sitges International Fantasy and Horror Film Festival (Spain), and the Toronto After Dark Film Festival (Canada) – at the latter of which it won Best Screenplay and came in second place for the Audience Award for Best Film. Critics generally received the film favorably, and it went on to be nominated for awards from the Australian Academy of Cinema and Television Arts Awards (AACTA), the Australian Film Critics Association (AFCA), the Australian Cinematographers Society (ACS), and the Film Critics Circle of Australia (FCCA).
Sarah Snook's performance in particular was highly acclaimed; she won Best Actress at the AACTA, AFCA and FCCA awards, and a number of critics have called it a breakout performance. She has since racked up additional award nominations for roles in Oddball (2015) and The Dressmaker (2015), and earlier this year she appeared alongside Helen Mirin in the Spierig Brothers' Winchester (2018). Although Ethan Hawk was not nominated for any awards related to Predestination, a number of critics positively commented on his performance as well, solidifying his place in the science fiction and fantasy genre along with prior efforts like Gattaca (1997), Sinister (2012), The Purge (2013) and his first collaboration with the Spierigs, Daybreakers (2009).
Predestination is available on Blu-ray and DVD at a variety of outfits. It is also available for rent or purchase on various digital platforms such as Amazon Prime, iTunes, Google Play and Vudu.
Sign up for Mythgard Movie Club
About the Panelists
Dominic Nardi is a political scientist who focuses on judicial politics in Indonesia. He worked as a consultant throughout Southeast Asia. He received his PhD from the University of Michigan and JD from Georgetown University. In addition, he has published articles about politics in Star Wars and The Lord of the Rings. You can find more of his writing at NardiViews.
David Maddock is a software engineer by trade. Now a Signum University alumnus, he is interested in applying quantitative methods in a humanities context with a particular focus on Old English poetry. His blog is called Loomings, an insufferable reader response to Moby-Dick, his favorite novel.
Curtis Weyant is a Signum Grad School alumnus who was introduced to Heinlein the wrong way – through the movie Starship Troopers (1997), though he later went on to read the book. A digital marketer by trade, he co-hosts the weekly podcast Kat & Curt's TV Re-View and occasionally pecks away at his own creative work.
Kat Sas holds an MA in Language & Literature from Signum University, where she concentrated in Imaginative Literature. She hosts a weekly podcast on speculative television at Kat & Curt's TV Re-View, and she blogs about Doctor Who, Game of Thrones, and other shows on her blog, Raving Sanity.