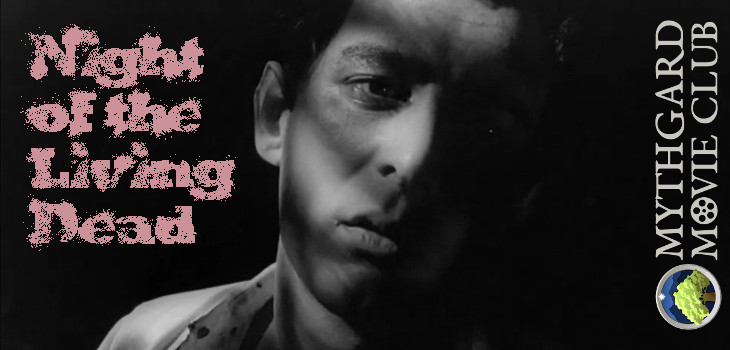 Night of the Living Dead
Event Recording
Description
Join the Mythgard Movie Club on November 15, 2018, for a discussion of Night of the Living Dead (1968). Directed by George Romero from a screenplay co-written by Romero and John A. Russo, the film stars Duane Jones and Judith O'Dea as two members of a group who become trapped in a house after the bodies of dead people mysteriously start climbing out of their graves and eating those who are still alive.
The ur-story of modern zombie narratives, Night of the Living Dead broke ground by deviating from earlier zombie tales, which generally offered mystical explanations for the reanimation of the dead. While Night offers no definitive reason for why its dead start "living" again, the leading theory hypothesized by a scientist in the film is that radioactive fallout from a recently destroyed space probe is somehow responsible – giving Night a presumably (if vaguely) science fiction impetus, rather than a magical one. Since Night's release, most zombie stories have followed suit, employing such scientific explanations as viruses (or other pathogens), contamination, drugs, or mental dysfunction. It's worth noting that Romero admittedly borrowed this idea from Richard Matheson's vampires in I Am Legend, which broke away from the the traditional portrayal of vampires in the same way that Night does for zombies.
Beyond the specific zombie, horror, and sci-fi elements, Night also touches on a number of themes related to race, class, education, and the cultural turmoil of Cold War-era politics. In particular, the decision to cast an African-American as the lead actor in an otherwise all-white cast was controversial in 1968, a year that saw the assassination of Martin Luther King, Jr., followed by a surge of race riots. Romero said that Jones, a theater actor, auditioned better than anyone else, and though the part had been originally written for a Caucasian actor, the screenwriters did not change the script to reflect Jones' casting. Because Jones was so well spoken, however, the actor "upgraded his own dialogue to reflect how he felt the character should present himself," according Karl Hardman, one of the film's producers who also played Harry Cooper (the father of the family found in the basement). The change of race, class, and educational status of the main character from a white, uneducated truck driver (as originally written) to a black, well-educated man of indistinct employment significantly changes the implications of the final scene.
Night of the Living Dead opened to fair amount of criticism largely because of its nihilistic outlook and realistic-looking effects. Released a month before the MPAA's now-common rating system for movies, the film attracted viewers of all ages, causing Roger Ebert to chastise theaters and parents who had let young children see it due to the graphic nature of the flesh-eating scenes. Variety used terms like "orgy of sadism" and "pornography of violence" to describe the film, while others dismissed it as "silly" and "junk." Nonetheless, the film made $15 million domestically on a budget of $114,000, and it made as much again oversees, becoming the highest-grossing film in Europe for 1968, showing once again that the way to get people to take interest in something is to condemn it morally.
Availability and Copyright Status
Night of the Living Dead is in the public domain in the U.S. due to a quirk of copyright law – specifically, a last-minute title change from Night of the Flesh Eaters left a copyright statement off the title frames, a requirement for securing copyright protection at the time. As such, the film is readily available in a number of places for free, including YouTube and Archive.org, and it has been released in a many inexpensive home media editions, including colorized versions of varying quality. Individuals outside the U.S. should check local copyright laws before accessing these resources.
For those who wish to look closer at the history and production of the film, earlier this year the Criterion Collection released a Blu-ray edition that includes:
4K digitally restored video
A previously unseen edit of the film titled Night of Anubis
A dailies reel
Commentaries from the director, co-writer, producer and lead actress
Contemporary advertising and media coverage (TV and radio spots, trailer, newsreel)
Various other special features
Sign up for Mythgard Movie Club
About the Panelists
Ashley Thomas is The Nerdy Blogger. She holds a B. A. in English Literature from Maryville College in Maryville, Tennessee (c/o 2007) and completed her M. A. at Signum University in Summer 2017. Ashley blogs, reads, writes (for fun and for hire), and spends time with her husband, Ryan, and their two cat-monsters, Luna and Oliver. She and Ryan reside in Charlotte, North Carolina with a large quantity of board games, comic books, and polyhedral dice. She would like to be Brienne of Tarth, Leslie Knope, and Hermione Granger when she grows up. Ashley blogs at nerdyblogging.wordpress.com and can be found on twitter @TheNerdyBlogger. You can also like her Facebook page at TheNerdyBlogger.
David Maddock is a software engineer by trade. Now a Signum University alumnus, he is interested in applying quantitative methods in a humanities context with a particular focus on Old English poetry. His blog is called Loomings, an insufferable reader response to Moby-Dick, his favorite novel.
Curtis Weyant is a Signum Grad School alumnus who is not necessarily a horror fan, but is also not not a horror fan. He will undoubtedly bring up yet again his paper on cabins in the woods during this discussion. A digital marketer by trade, he co-hosts the weekly podcast Kat & Curt's TV Re-View and occasionally pecks away at his own creative work.
Kat Sas holds an MA in Language & Literature from Signum University, where she concentrated in Imaginative Literature. She hosts a weekly podcast on speculative television at Kat & Curt's TV Re-View, and she blogs about Doctor Who, Game of Thrones, and other shows on her blog, Raving Sanity.