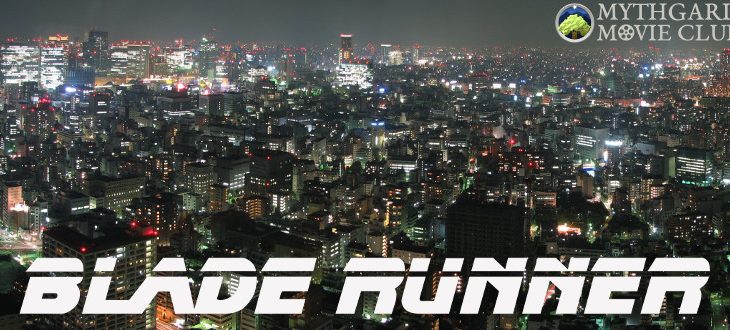 Blade Runner
Event Recording
Description
Join the Mythgard Movie Club on January 31, 2019, for a panel discussion on Blade Runner (1982), starring Harrison Ford, Rutger Hauer, Sean Young, and Edward James Olmos. Directed by Ridley Scott, the film is based on Philip K. Dick's 1968 novel Do Androids Dream of Electric Sheep? and follows the story of policeman Richard Deckard as he attempts to hunt down several "replicants" – bioengineered automatons who are nearly indistinguishable from humans – that have gone rogue.
A film based on Androids was first optioned in the early 1970s, but PKD disliked the script (written by Robert Jaffe), and the movie lingered in development hell for several years with various writers, producers and directors expressing interest at different points. In 1977, Hampton Fancher wrote a new script, attracting the attention of producer Michael Deeley, who pulled in Ridley Scott as directory. Scott thought Fancher's script focused too much on environmental issues and wanted to bring in more of the themes around humanity and religion, so he hired David Peoples to rewrite the script, with Fancher providing some additional rewrites later. (Scott also chose the name Blade Runner from Alan E. Nourse's 1974 novel The Bladerunner, though none of that book's story was used in the movie.) PKD liked the rewritten script, but unfortunately he never got to view the final film, as he passed away in March 1982 just a few months before the film's release in June.
Writer Fancher intended the role of Richard Deckard to be played by veteran noir film actor Robert Mitchum and wrote the part with him in mind, but Scott and the other producers initially met with Dustin Hoffman for the role. After considering a number of other actors, they eventually landed on Harrison Ford based on his performance as Han Solo in the first Star Wars films (1977 and 1980), as well as a recommendation from Steven Spielberg who praised Ford's work on Raiders of the Lost Ark (1981).
Critical reception of Blade Runner was mixed, and the movie did not do well at the box office. However, a burgeoning home video industry helped bring the movie to a larger audience, allowing a cult following to develop. The movie also drew attention from academics, who pointed to a mix of science fiction influences on the film, in addition to Android's source material, and the development of a cyberpunk aesthetic that William Gibson claimed captured the intended feel of his later genre-defining novel, Neuromancer (1984). Despite its initial slump, the film won the Hugo Award for the Best Dramatic Presentation in 1983, and it was nominated for more than 20 other awards from the Saturn Awards, BAFTAs, Golden Globes, and Academy Awards, among others.
Stylistically, Blade Runner set a tone for dark dystopian science fiction films that is still being used nearly 40 years later, with notable impacts on films like The Terminator (1984), Total Recall (1990, based on another PKD story), Strange Days (1995), Gattaca (1997), The Fifth Element (1997), Dark City (1998), The Matrix (1999), Dark Knight (2008) and Ex Machina (2014); television shows like Total Recall 2070 (1999, based on themes from both Blade Runner and Total Recall), Battlestar Galactica (2004), Almost Human (2013), Westworld (2016) and Altered Carbon (2018); and video games like Metal Gear, Deus Ex and Bioshock – as well as two Blade Runner video games made for Commodore 64 (1985) and PC (1997). As the first of PKD's novels to be adapted to film, the slow-burn success of Blade Runner also touched off a series of other adaptations of his work, including Total Recall, Screamers (1995, based on "Second Variety"), and Minority Report (2002), among others.
A Note on Blade Runner Versions
Over the last several decades, several different versions of Blade Runner have been released in the U.S. and internationally, including:
U.S. theatrical version (1982)
International theatrical version (1982) – also known as the "Criterion Edition"
U.S. broadcast version (1986)
The "Director's Cut" (1992)
The "Final Cut" (2007)
For this discussion we will be using the Final Cut version, both because of its ready availability and because, in the view of the panelists, it is the most compelling. While we may refer to differences between versions, we will primarily refer to the Final Cut.
Blade Runner: The Final Cut is available from Amazon and other retailers, and digital versions are available for rent or purchase from a variety of streaming services, including YouTube, Google Play, iTunes and Vudu. Note that in March 2019, the Mythgard Movie Club will also be discussing Blade Runner 2049, the sequel released in 2017, so viewers may wish to consider purchasing this 2-film set.
Sign up for Mythgard Movie Club
About the Panelists
Kris Swank is a Preceptor at Signum University and Library Director at Pima Community College–Northwest Campus, Tucson, Arizona. She holds a BA, summa cum laude, Humanities and English, Dana College, a Master of Library Science, University of Arizona, and an MBA in International Management, Thunderbird School of Global Management. In 2014, she completed the MA in Literature and Languages program at Signum University with a concentration in Tolkien Studies and is currently pursuing a PhD in Tolkien Studies at Cardiff Metropolitan University with Dr. Dimitra Fimi.
Dominic Nardi is a political scientist who focuses on judicial politics in Indonesia. He worked as a consultant throughout Southeast Asia. He received his PhD from the University of Michigan and JD from Georgetown University. In addition, he has published articles about politics in Star Wars and The Lord of the Rings. You can find more of his writing at NardiViews.
Curtis Weyant is a Signum Grad School alumnus who rarely remembers his dreams, whether of electric sheep or otherwise, which gets him into trouble more than one would think likely. A digital marketer by trade, Curtis co-hosts the weekly podcast Kat & Curt's TV Re-View, thanklessly edits Laserflail, and totally does not have a partial manuscript about a dark, dystopian future with homicidal androids anywhere in his Google Drive.
Kat Sas holds an MA in Language & Literature from Signum University, where she concentrated in Imaginative Literature. She hosts a weekly podcast on speculative television at Kat & Curt's TV Re-View, and she blogs about Doctor Who, Game of Thrones, and other shows on her blog, Raving Sanity.